presents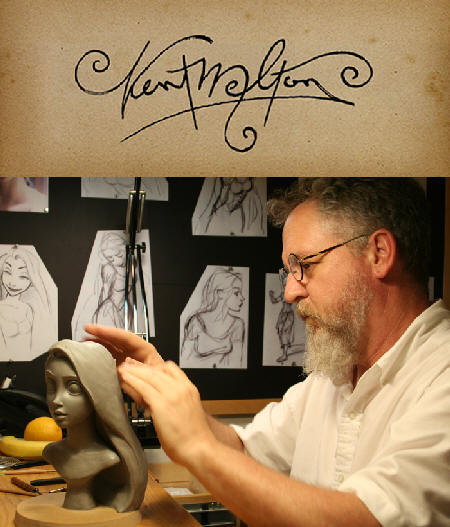 A very special collection of feature film maquettes,
WDCC resins, and other sculptures
by Kent Melton is now available exclusively
from CEL-EBRATION! Gallery.
All pieces can be signed by the artist,
and are subject to prior sale.
We urge you to e-mail or call to reserve your selection.
For additional information:
732-842-8489
Kent: "Meeting and working with some of Walt's "Nine Old Men" while sculpting for
Walt Disney Classics Collection was extremely educational for me. As you probably already know,
those guys literally wrote the book on feature animation. The artist that most inspired me was Marc Davis.
He was a soft spoken Renaissance man. A master of design, drawing, painting, sculpture, storytelling,
and basically everything else he ever put his creative mind to. I can truly understand
why Walt valued him so highly on so many of his various projects.

As I steadily sculpted my way through the list of his characters at WDCC I met with Marc at his home/studio
to get his insight on each piece. I remember the time I was showing him my sculpture of Snow White
for his notes when he called his wife Alice in to take a look. She pointed out that Snow White
wore a wool dress and that I'd put too many fine wrinkles in the drapery making it look more as if it were made of cotton.
Where else could you ever get that kind of invaluable information? That was the day I found out that Alice
was not only a very talented artist but she'd also worked on costuming the actors for the live action
reference on Snow White. Thankfully, It was just impossible to visit them without learning something new."

Aladdin Maquettes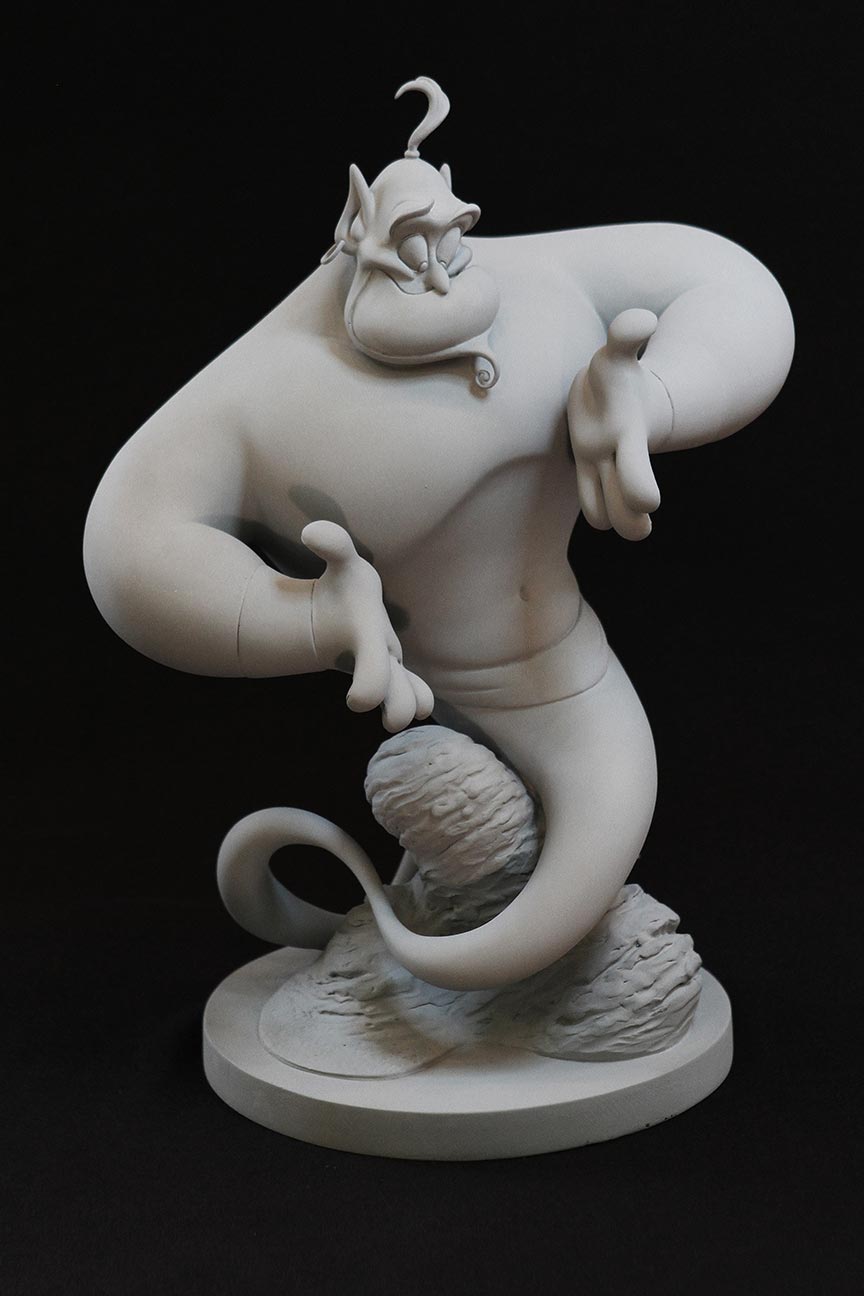 Aladdin: "Genie"
SOLD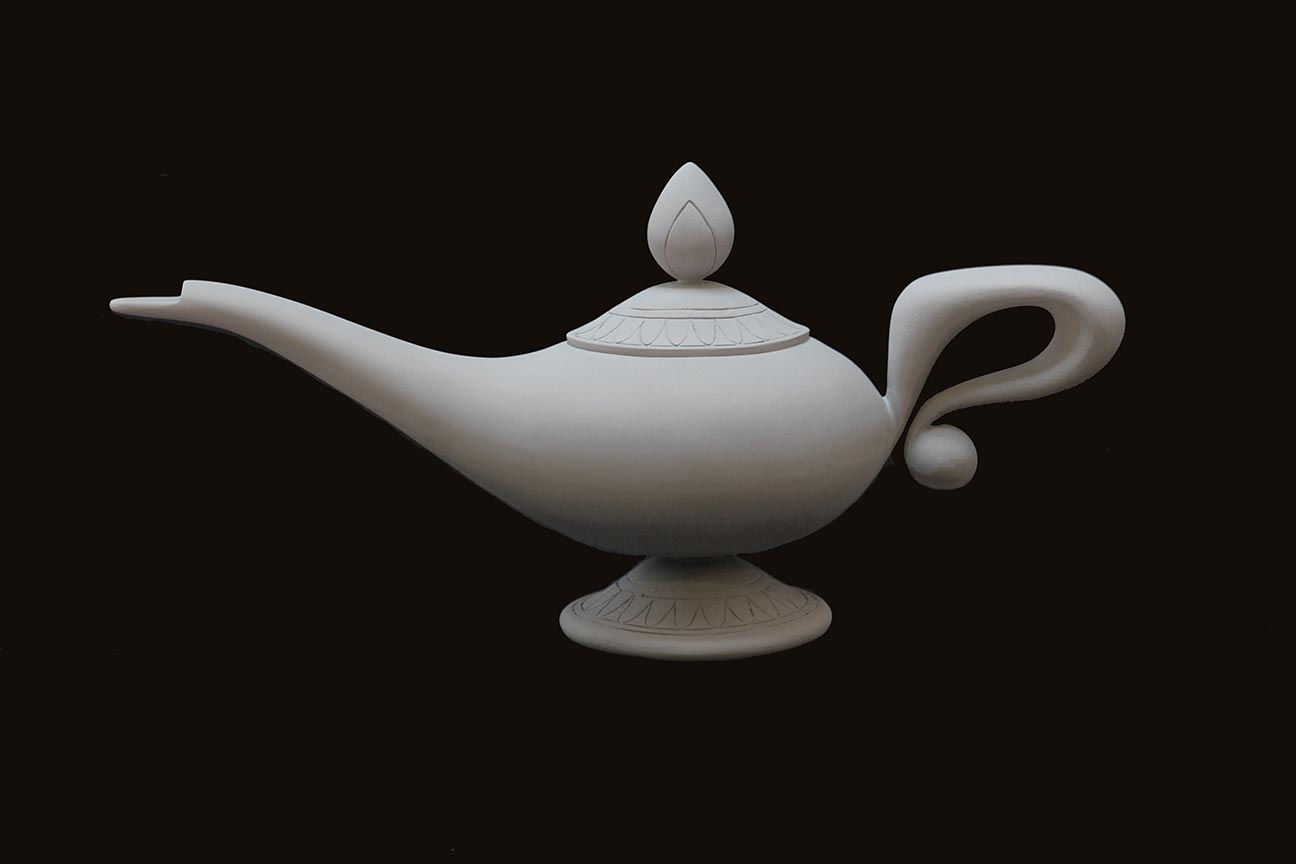 Aladdin: "Magic Lamp"
SOLD

Lion King Maquettes

Kent: "I started work early in the production of The Lion King.
Tony Fucile was lead animator and designer of Mufasa the first character on my schedule.
This was the first time I'd met Tony. He was very laid back and I liked him right away.
Tony had only just started sketching Mufasa's design and it was really a little premature for me to begin sculpting.
Tony didn't seem bothered by this and handed off the drawings of his design still in progress to me.
Once that I had the sculpture roughed in I asked Tony to have a look at it.
He loved the head but he told me that he had not been able to spend very much time on the body.
He asked for my thoughts about it. I was a little rattled, It was the first time I'd been asked for my opinion at the studio.
After a moment to recompose of course (like most people) I had one so... I suggested that maybe bulking the body up
could make it seem more logical for it to contain the booming voice of James Earl Jones.
Then to my disbelief Tony said "Yeah, that's great. Go ahead and do that."
So suddenly there I was free styling without a reference drawing thinking, "me and my big mouth."
I tried to remember Michelangelo's sculpture of Moses as I added on the clay. An old warrior ripped in his youth
that had become heavier with age. Tony liked the changes so much that he altered the model sheet to match it.
Don't get me wrong, The Mufasa design is completely Tony's vision but getting to add my two cents worth was a real honor.
Thank's Tony!"

Kent: "I'd like to answer a few questions asked about the maquettes. My process of sculpting them
is very traditional. I start by bending a simple wire armature (support structure) from aluminum wire.
If it is a bulky character I will use foil to fill up volume in the large areas. For hat brims, capes, and the like
I will use a wire mesh for support. Sometimes an external armature stand is required but often times
I'll just drill holes to attach them to a plywood base. If I'm using reference art I always enlarge or reduce it
to the scale that I'm working in. I mostly refer to these drawings for measuring proportions when
constructing the armature. It's critical to always remember that you are sculpting a character
and not the drawing. I use Super Sculpey for all of my animation maquettes because it can be baked
to harden when the piece is completed and approved. The original sculptures will be cast in resin
and baking makes the them more durable so it is less likely that they will be damaged
in the silicone molding process. As far as sculpting, I tend to rough out the entire figure before adding the details.
I always rotate the sculpture to make sure that I hold onto the line of action that I've already established
in my wire armature. I also slightly over sculpt by adding a bit more clay than necessary
when I'm blocking in the form. I stated out carving figures in wood so I still prefer the control
of carving the final details with wire tools and smoothing the surface by lightly shaving off the clay
with the flat side of a rake tool. The resin maquettes that were utilized by the animators in the actual production
of Disney films were only sprayed with a gray primer coat. The maquettes that were produced for auction
or sold as limited editions were painted in full color by the Disney Ink and Paint Department.
The WDCC resin prototypes were also originally painted as color reference models by Ink and Paint
until Disney closed the department down. Painting was then jobbed out to independent contractors."

Pocahontas Maquettes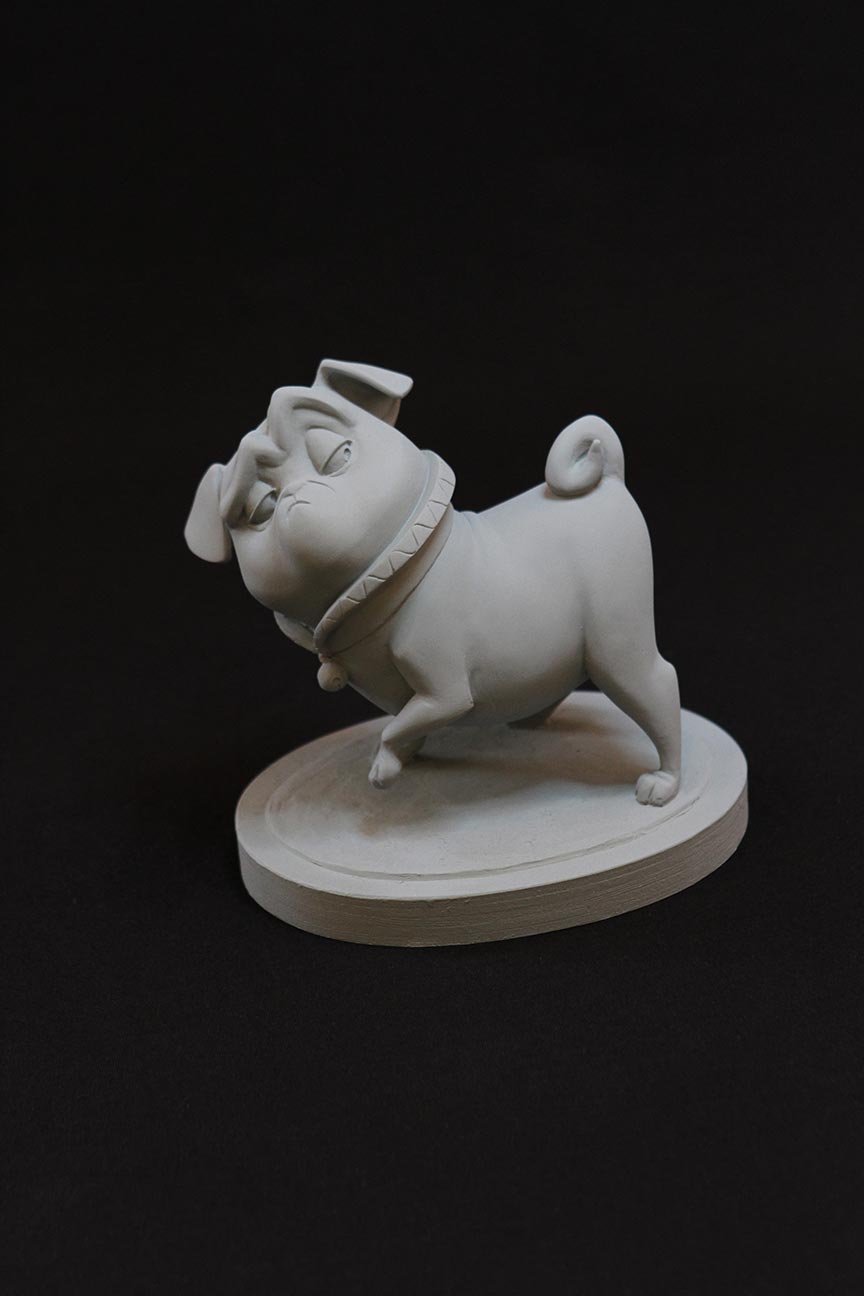 Pocahontas: "Percy"
SOLD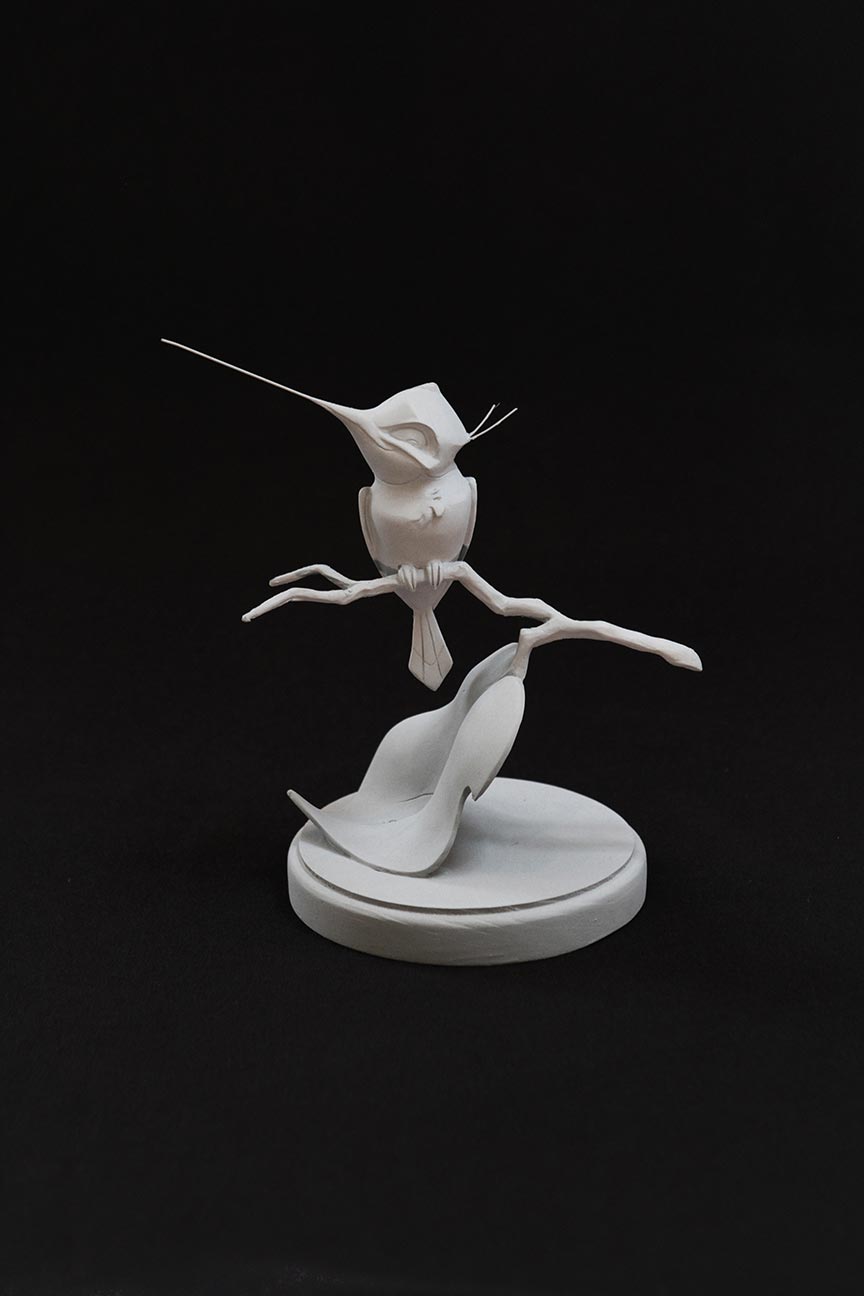 Pocahontas: "Flit"
SOLD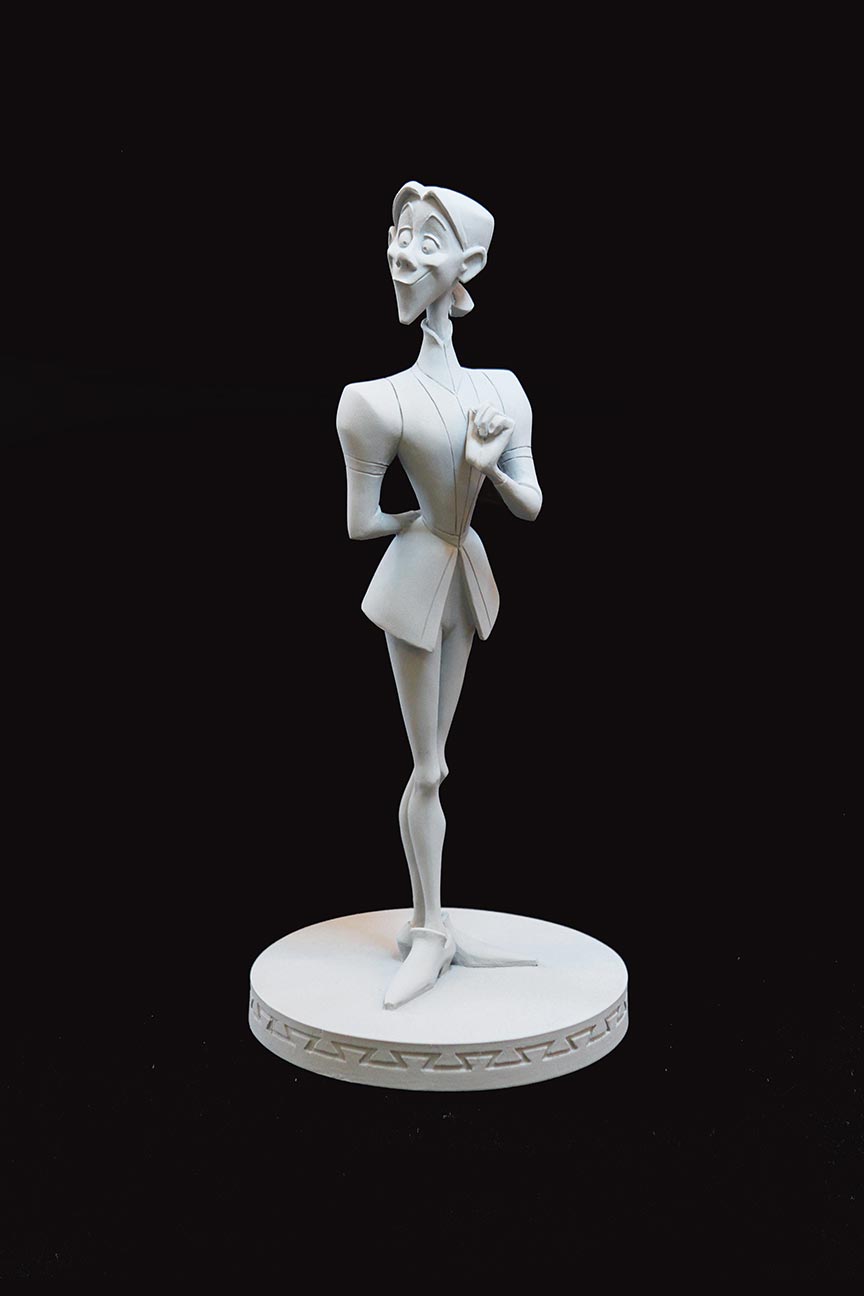 Pocahontas: "Wiggins"
SOLD

The Incredibles Maquettes
Kent: "Yes, I used glass magnifying lenses for Edna's glasses and thanks to the genius
of my good pal Doug at Hild Studios each identical pair of her glasses were cast using
the same exact type of glass lens. With the exception of the Aladdin Maquettes,
Hild Studios produced the resin castings of everything that I ever sculpted for Disney.
In fact I'd had so much trouble getting good quality castings prior to meeting Doug
I had decided to give up sculpting all together. Thanks for saving my career Doug!"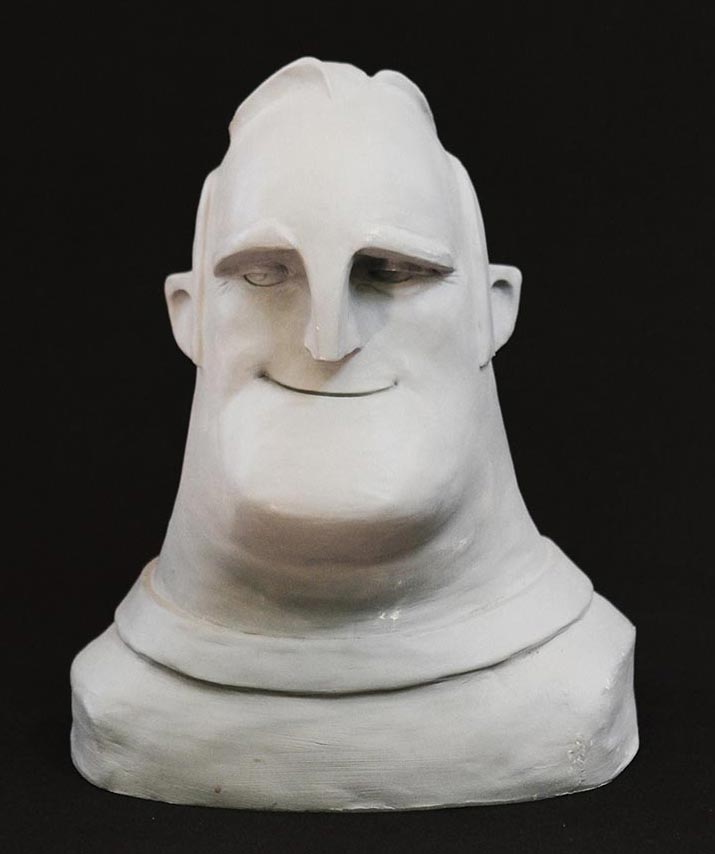 Incredibles: "Bob Bust"
sculpted by Tony Fucile
$3500.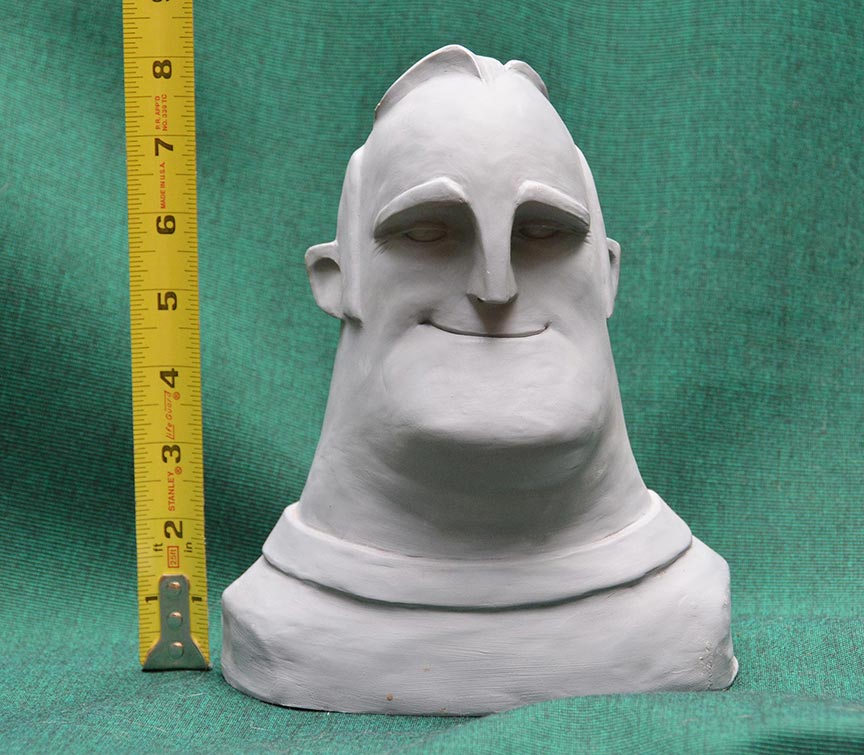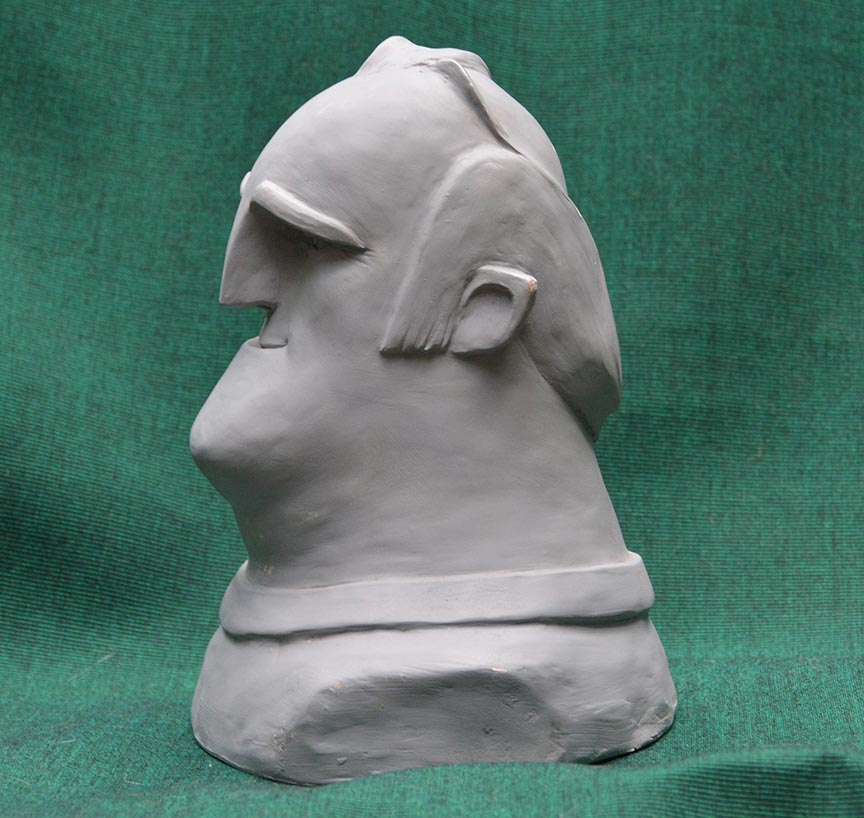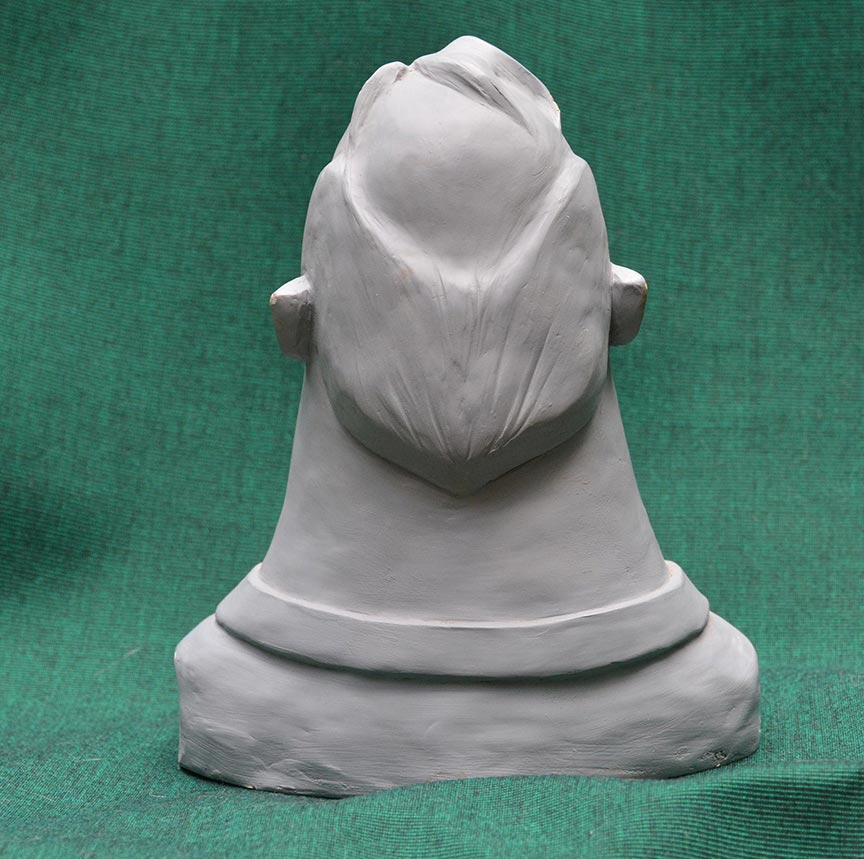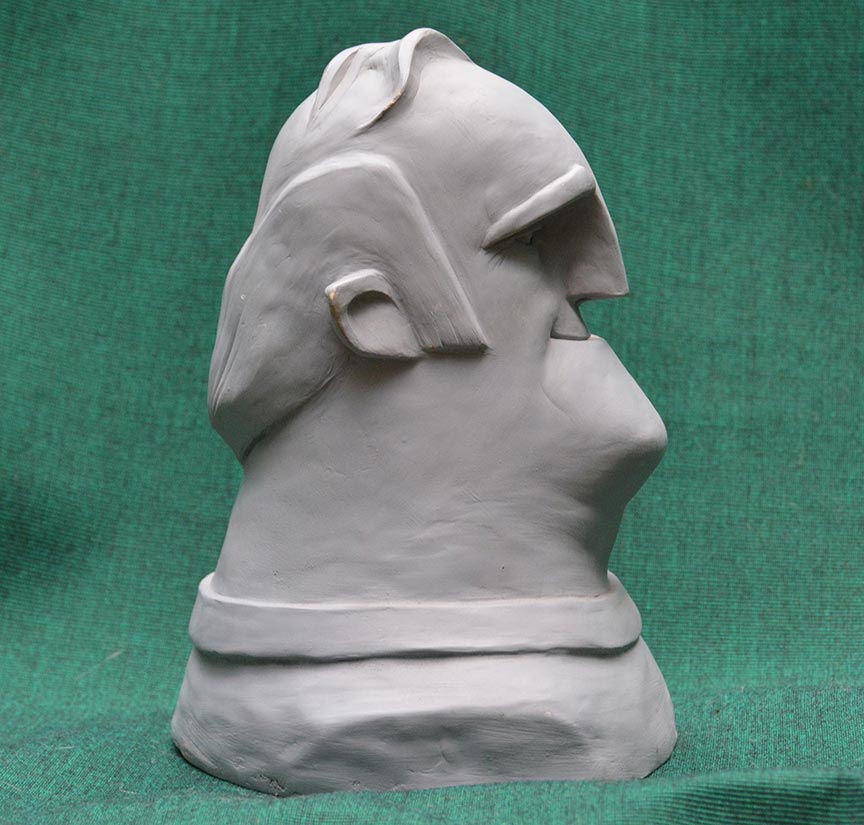 Disney Treasures
Pieces So Unique, they deserve their own Category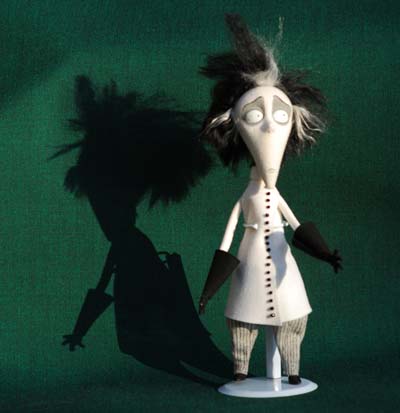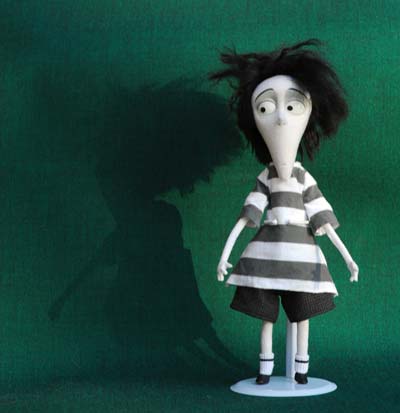 "Vincent"
Hand Made - Each One Unique
Size: 16" tall (+/- hair)
One Remaining Set Available!
$1,250.

Warner Bros. Limited Editions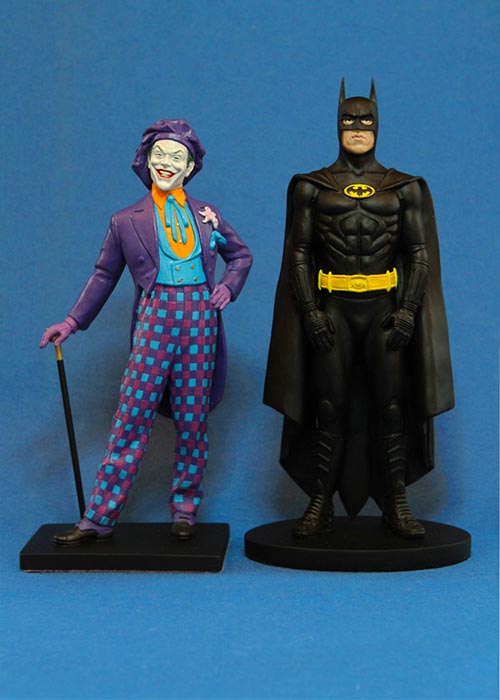 Batman: "Batman & Joker"
hand painted
$3500.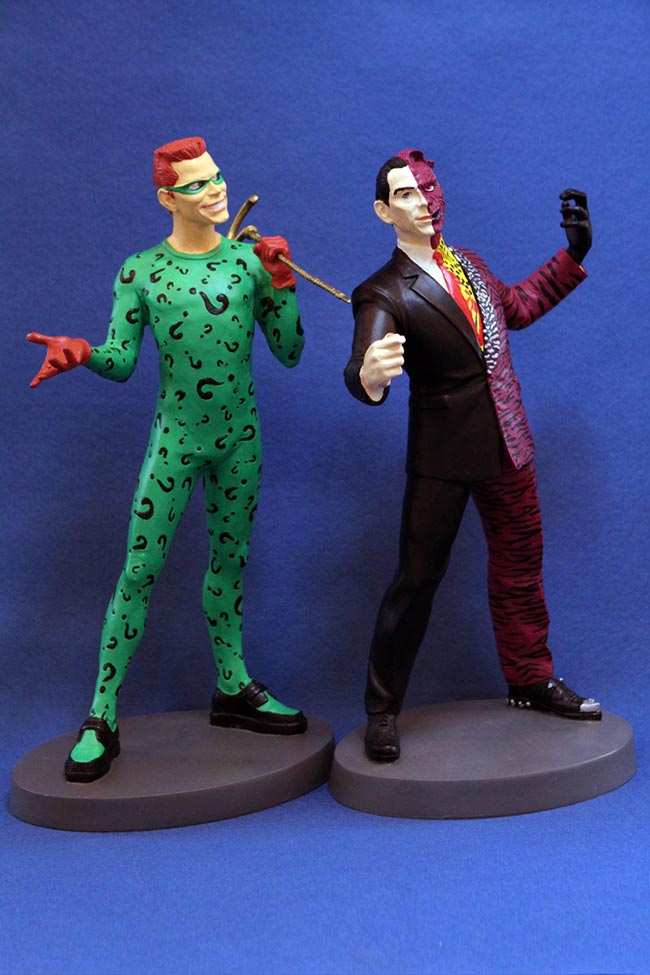 Batman: "Riddler & 2 Face"
Limited Edition from Warners Store
$100.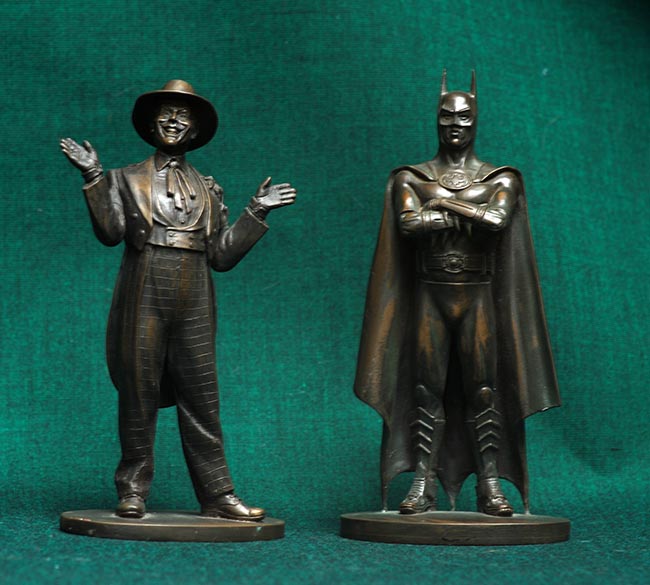 Batman: "Batman & Joker"
Cold Cast Bronze
$5,000.
We've had several requests for various images, so here we are: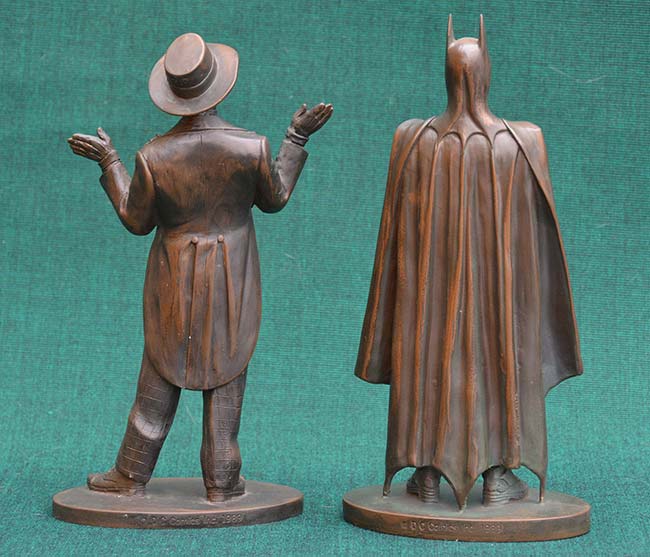 Rear View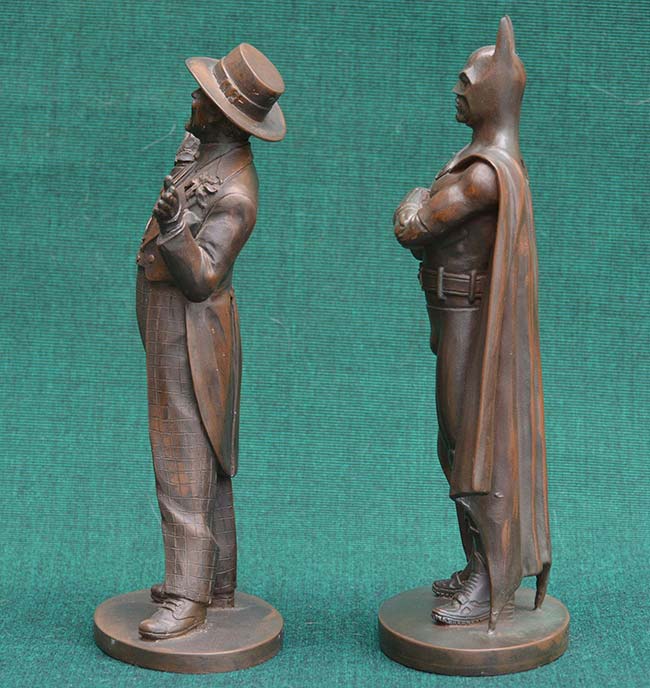 Left Side View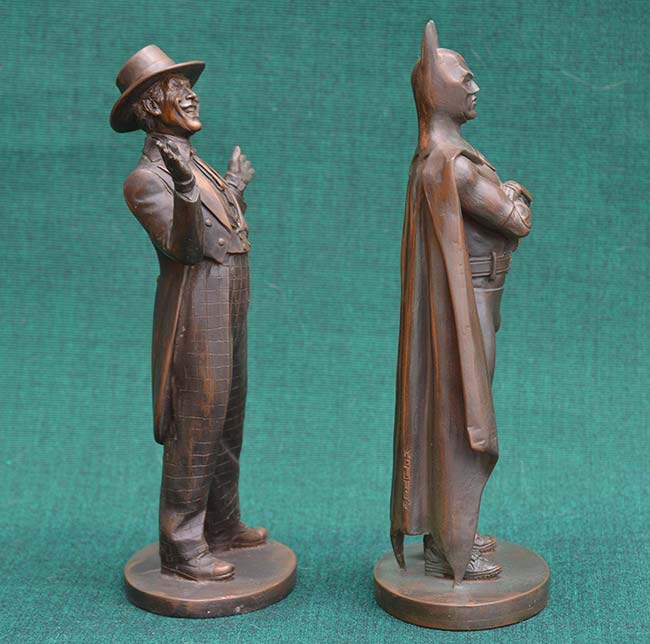 Right Side View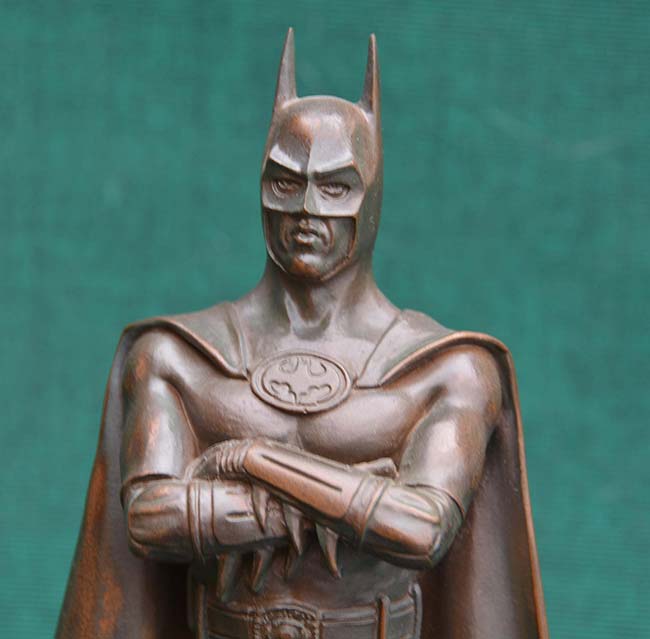 Batman Close-Up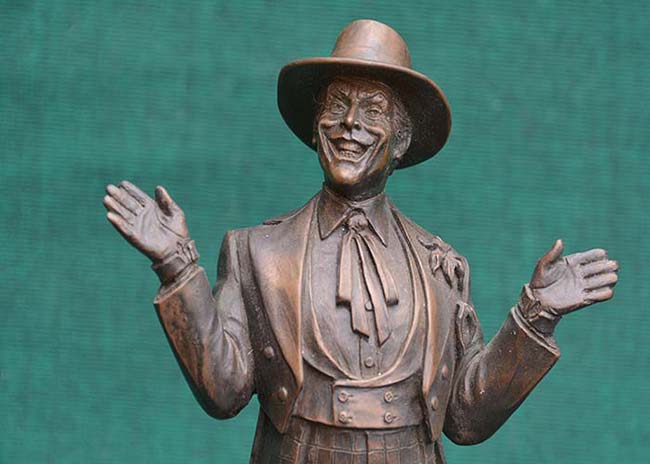 Joker Close-Up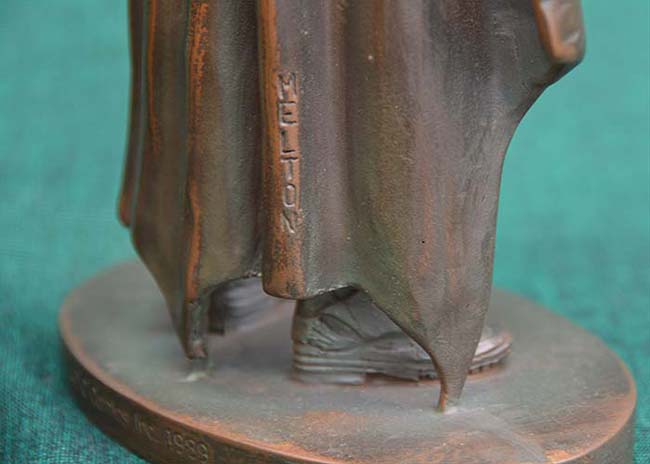 Kent Melton cast signature on Batman's cape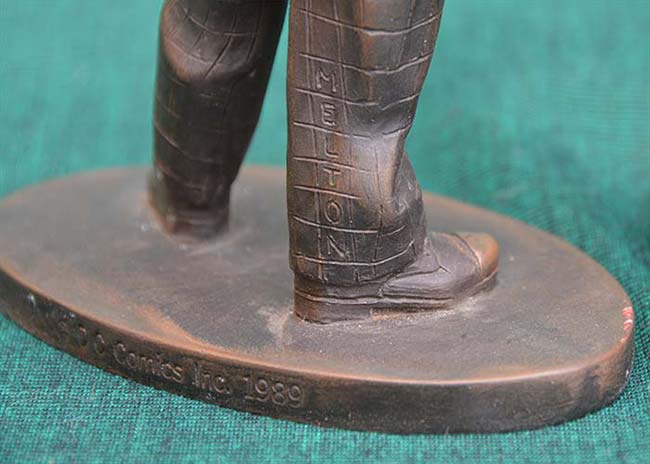 Kent Melton cast signature on Joker's pant leg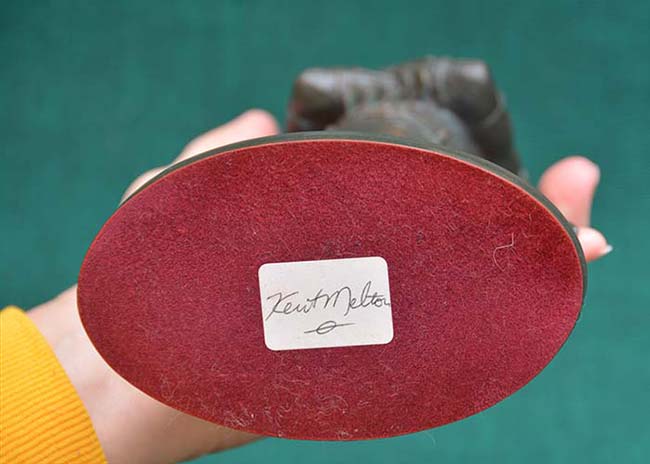 Kent Melton script signature on Batman's felt base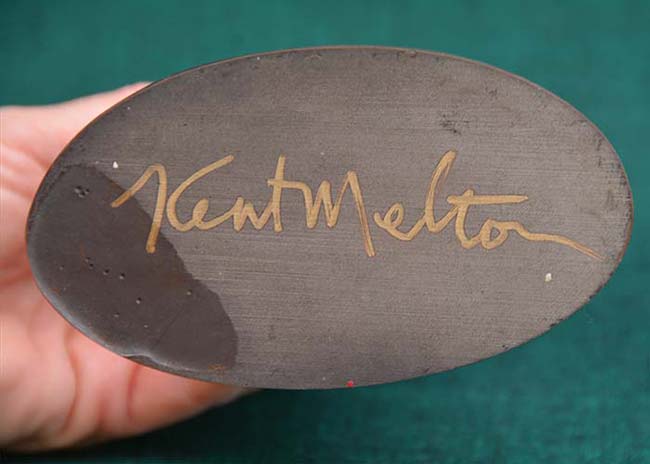 Kent Melton script signature on Joker's base

MGM Studios Limited Editions
Kent: "When I was a kid occasionally the local TV station would broadcast MGM cartoons
directed by the great Tex Avery. I've never been quite the same since.
It's as much fun sculpting Tex's characters as it is to watch them!"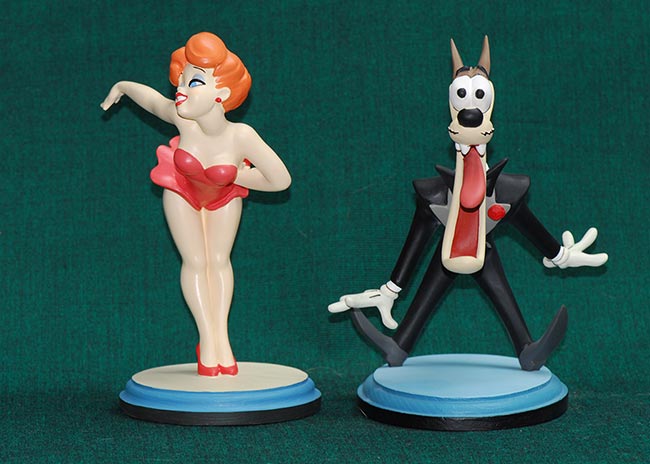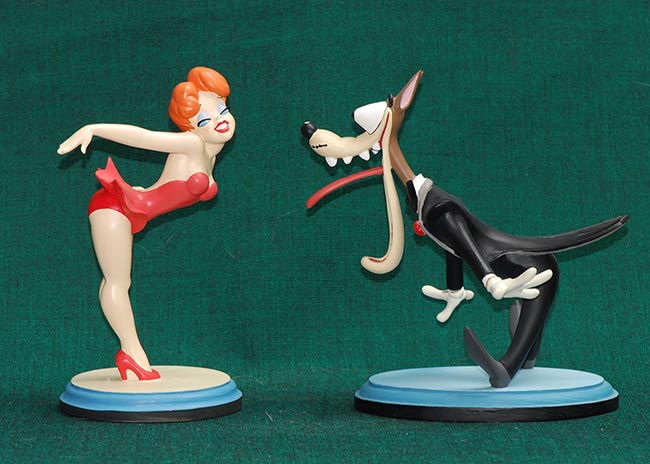 "Red Hot & Wolfie"
Only Red Hot is available
Wolfies are SOLD
Red Hot: $100.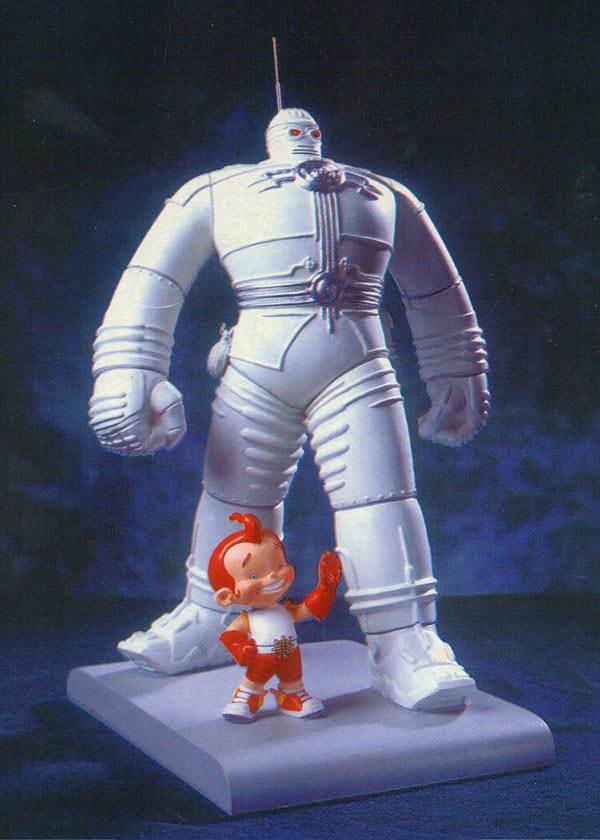 "Rusty & The Big Guy"
Two sets 'in-box' available
$150. each
&
Three sets 'not-in-box' available
$125. each